Huepar E011G - Green Beam Cross Line Self-leveling Laser Levels Tool with Motion Sensor & Li-ion Battery
Sale price
$69.99 USD
Regular price
Tax included.
☑️ BFCM - 15% OFF Sitewide, Code: BFCM2023
Free Shipping & ETA:Dec 04 - Dec 08

24 Months Official Warranty: Easy Returns & Exchanges
Pay with Ease
Huepar E011G - Green Beam Cross Line Self-leveling Laser Levels Tool with Motion Sensor & Li-ion Battery
Description
Package List
2-Year Warranty
Shipping & Delivery
Payment
Great Support
Product Description:
Huepar E011G Green Cross Line Laser Level Specifications:
● Laser Class: Class 2 (IEC/EN60825-1/2014), output power <1mW
● Laser: Three Modes with Green Beam: Horizontal/Vertical/Cross Lines
● Working Distance (Line): 25m
● Working Distance (Line with Detector): 50m
● Laser Wavelength: 510-530 nm
● Accuracy: ±3mm/10m
● Leveling/Compensation Range: 3°±1°
● Operating Time: 7 hours with all laser beams on
● Power Source: 3.7V/2200mAh built-in rechargeable Li-ion battery
● Mount Size: 1/4"-20
● IP Rating: IP54, waterproof, dustproof and shockproof, reliable and tough
● Operating Temperature: Between -10℃ and +50℃
● Storage temperature: Between -20℃ and +70℃
WARNING: Do not point the laser beam directly into the eyes.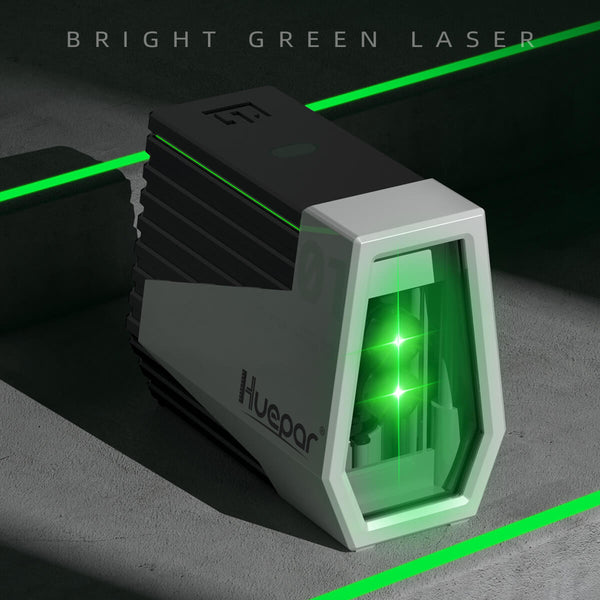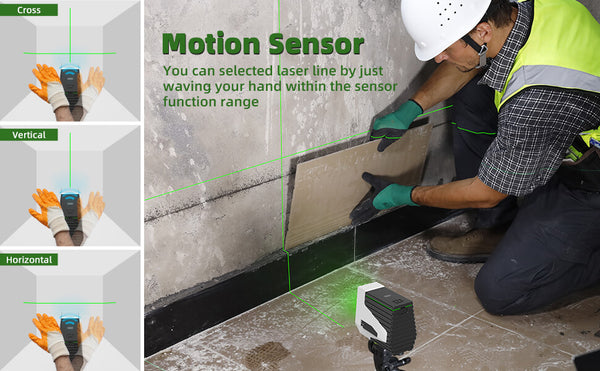 Motion Sensor
This laser level uses with infrared sensor,by waving your hand to switch cross lines, horizontal or vertical line -3 line modes, no need to touch the button. It can also be operated with wet hands or wearing gloves. The Sensing distance is 0-10 cm. This green laser could save your lots of time and make your job easier.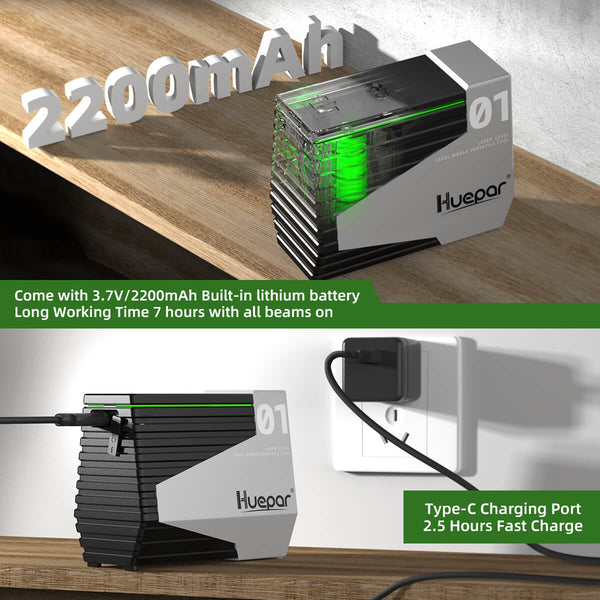 Large capacity lithium battery
Huepar E011G laser level employed a 3.7V / 2200mAh built-in rechargeable Li-ion battery, it only takes 2 hours to fill recharge fully. The longest working time is up to 7 hours,it can meet your work needs all day long. Through the Type-C charging port you can directly plug into power bank or laptop or any other USB port to charge the laser level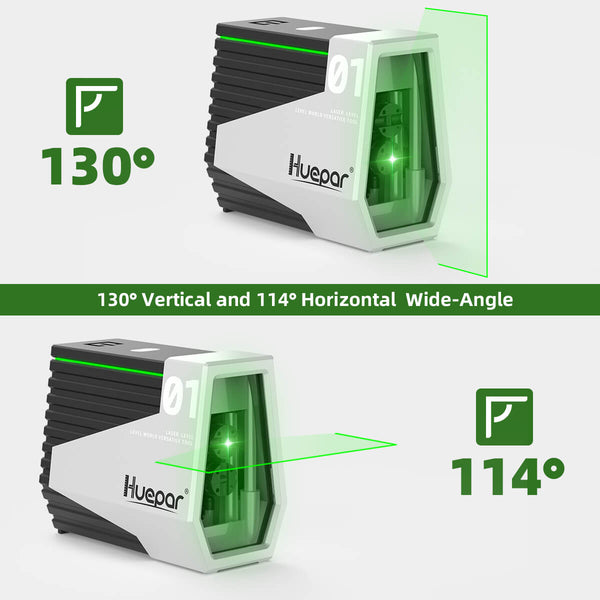 Large Expansion Angle
130 ° Vertical Line and 114° Horizontal Line can easily deliver laser lines from the floor to the ceiling and wall. Provides great convenience for your photo hanging, tile alignment, window and door installation, etc.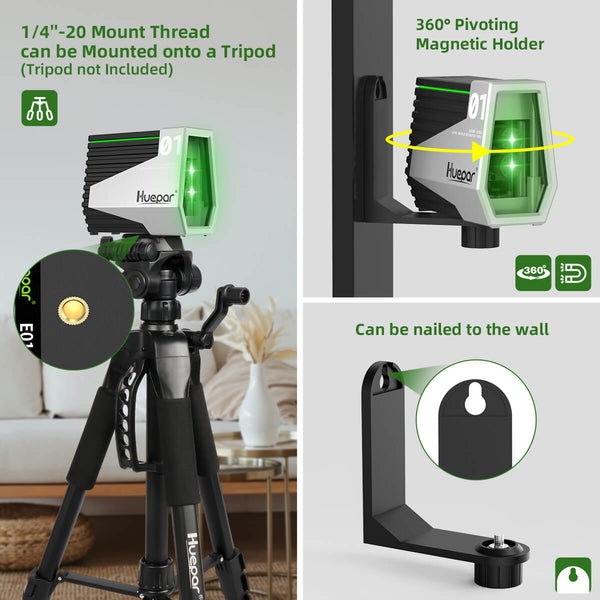 Magnetic Bracket &Compatible with Tripod
The magnet on the powerful L-shaped magnetic adsorption bracket can be firmly attached to any place. You can safely install the laser level on it to achieve 360° rotation. The laser level also provides a 1/4"-20 thread to mount to a standard tripod or laser pole.
1 x Huepar E011G
1 x Type-C charging cable
1 x Rectangular magnetic support
1 x Nylon zipper carrying case
1 x User manual
All official website orders will automatically receive a free 2-year membership warranty.
We insist on providing customers with high-quality products and promise to provide customers with 24-month worry-free after-sales service.
The time frame of an order delivery is divided into two parts:
Processing time: 1-2 working days
Shipping time: 2-5 working days
We offer free shipping on orders of $99 or more. If your order does not qualify for free shipping, the shipping fee will be shown on the address-filing page once the order is settled.
We accept the following forms of payment:
1. Credit Card (Visa, MasterCard, American Express, Discover)
2. Debit Card (Visa, MasterCard, Discover)
3. Paypal
4. Paypal Credit
5. Apple Pay
6. Google Pay
7. Shop Pay
8. Affirm Financing (excluding West Virginia and Iowa)
9. Bank Transfer
PREMIUM SERVICE, SUPERIOR QUALITY
24/7 Premium service team
Equipped with factory-trained experts, Huepar's consumer service team strives to find the right solution for your needs – from advice to sales and repair & maintenance services.
You can enjoy efficient support from Huepar- we promise to respond in 24hrs and solve the problem in 48hrs.

Lifetime Customer Support
All Huepar products come with lifetime customer support - no worries about exceeding the service period.
All product defects, such as accuracy malfunction, battery and charger damage and requests for replacement parts will be dealt with on time, every time.

Note: Please contact our customer care using online chat service at https://huepar.com/support or email"support@huepar.com"if there is any problem with your payment.
Which is the Best for You?
Specification comparison between products Huepar E011G - Green Beam Cross Line Self-leveling Laser Levels Tool with Motion Sensor & Li-ion Battery, Huepar 5011G - Green Portable Line Laser with Pulse Mode & 360° Magnetic Rotating Base, Huepar 9011G - DIY Self-Leveling Green Beam Cross Line Laser with 360° Magnetic Pivoting Base, Huepar 9211G - Green Beam Cross Line Self-Leveling Alignment Laser Level with 2 Plumb Dots

Product SKU

E011G

5011G

9011G

9211G

Product type

Cross Line Laser Level

Cross Line Laser Level

Cross Line Laser Level

Cross Line Laser Level

Number of Lines

Laser Lines

Expanded Angle

Laser Beam Supplier

Laser Beam Color

Laser Wavelength

Line Accuracy

Leveling / Compensation Range

Max Self-leveling Time (Seconds)

Bluetooth Connectivity

Remote Control

Dot Accuracy

Line Switching

Pulse Laser Receiver Mode

Working Range (60-100 LUX)

Working Range with Detector

—

—

AA Battery

Not included with product

Li-ion Battery

—

—

Working Time (Hours)

Charging Time (Hours)

—

—

Mount Size

Durable Design

Hard Carry Case
WARNING:
Do not point the laser beam directly into the eyes.
The device is a laser class 2 laser product according to IEC / EN60825-1 / 2014. It is allowed to use the device without any further safety precautions.
The eye protection is usually secured by aversion reactions and blink reflex.
Huepar Laser Level has undergone laboratory benchmark testing to ensure that the working temperature range of the product is: -10℃ ~ 50℃ / 14℉ ~ 122℉; the recommended temperature for product storage is: -20℃ ~ 70℃ / -4℉ ~ 158℉.